Accessories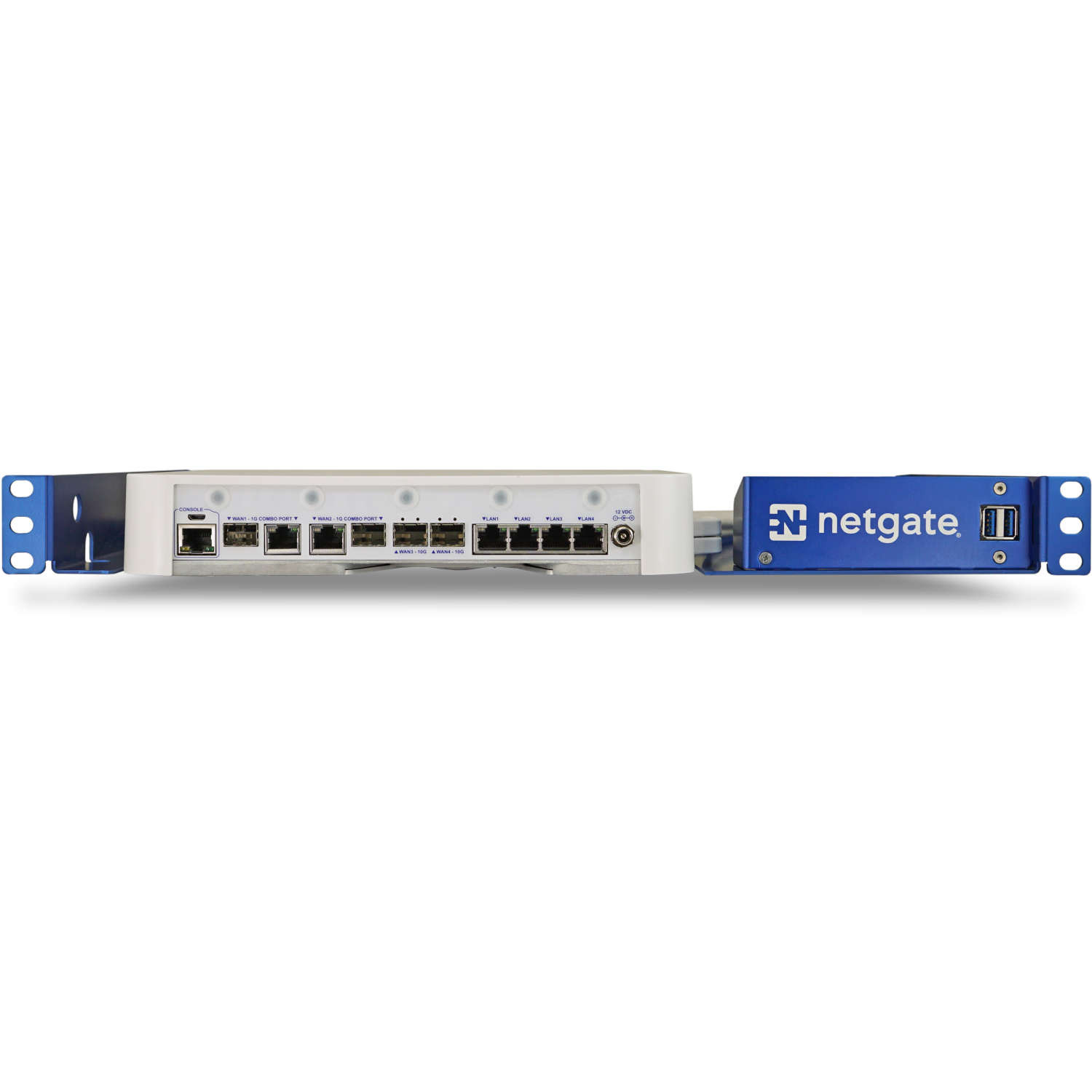 Router
Firewall
IPsec VPN
Netgate 8200 MAX Secure router with TNSR software
In Stock
Expedition on Day
Free Shipping
Warranty 1, 3, 5 years
Overview
The Netgate® 8200 with TNSR® software is a high-performance, secure router that supports high-speed throughput with management flexibility for service providers, virtual or branch offices, edge to cloud applications and all businesses who are looking for astounding multi-gigabit throughput at an unbeatable price point.
Eight cores 2,4 Ghz Intel Atom CPU
8 independent and flexible WAN/LAN ports
10 Gbps SFP+ • 2,5 Gbps RJ45 • 1 Gbps combo RJ45/SFP
16GB DDR4 RAM
Active - integrated quiet chassis fan with onboard control
Secure Fast Routing

This system combines the power of TNSR with an 8-Core Intel® Atom® C3758R CPU with integrated QuickAssist & AES-NI, and 16 GB of memory delivers over 18 Gbps of L3 routing across 8 Independent 1 GbE, 4 2.5 GbE, and 2 10 GbE Flexible WAN/LAN ports.

Flexible Management

TNSR software configuration through both CLI and RESTCONF API enables the Netgate 8200 to be managed by IT automation platforms like Ansible®, SaltStack®, Puppet®, or Chef™ - which go beyond traditional GUI management techniques to enable both speed and multi-instance management orchestration at scale, along with low-cost deployment and automated operation.

Affordable & Quiet

To provide reliable & consistent performance, the 8200 has an actively controlled cooling fan integrated into the chassis baseplate which allows the unit to remain uncharacteristically quiet for such a powerful 1U system.
Why TNSR?

Our Get to Know TNSR page has additional information about TNSR routing and security features, performance, and technology. Solution Briefs, Videos, and Technical Documentation are also available to help you get started with your TNSR journey.

Availability

In addition to deployment on the Netgate 8200, TNSR software is also available on the Netgate XG-1537, XG-1541, 6100 MAX, as a Bare Metal or VM Image for deployment on 3rd party hardware, or as a VM, or in the public cloud on Amazon Web Services and Microsoft Azure.

The Netgate 8200 with TNSR software includes the first year of the TNSR software subscription with 24x7x365 TAC PRO Technical Assistance from our knowledgeable and highly-rated Netgate Global Support team.

Additional information

   - TNSR Technical Documentation: Getting Started, API Documentation, etc.
   - TNSR Supported Platform Manual
   - Not PoE compatible
   - Ships with your choice of Australian, UK, EU or USA power cord. Easily changed by purchasing compatible AC power cord with IEC320-C7 (2 PIN) plug (visual example).
   - Netgate 8200 systems are actively cooled. Take care to avoid any obstructions to the chassis and lid venting.
   - Netgate 8200 systems may be rack mounted with other devices directly above or below the Netgate system. Heat sources placed immediately below or in direct contact with the underside (chassis) of the 8200 system should measure less than 40C / 104F surface temperature.

Support information

    TNSR software subscription with Netgate Global Support technical assistance (TAC Pro - 24 hour SLA) is included for the first year. Upgrade to TAC Enterprise for the fastest 4 hour SLA. All support plans offer 24x7x365 availability and a friendly team to assist you.
    For support assistance, click here.
    For service level descriptions, click here.
    Netgate Global Support FAQ is here.
    Help is always available from Netgate Community members on our forum here.
Warranty information

   - Appliance warranty applicable if sold in Europe by Viatitude: One year manufacturer's hardware warranty, return cost to buyer's expense, back-delivery to Viatitude expense (except outside Europe) with repaired or spare item, new or refactored, identical or superior to original item.
   - Optional extension to 3 years or 5 years of manufacturer's hardware warranty by Viatitude.
   - Next-day spare delivery (in France): upon request.
   - All specifications subject to change without notice.

You will also need

    Mounting hardware specific to your racking system.

    Due to the wide variety of rack mount fasteners, cage nuts, rack screws, etc. mounting hardware is not included. Please select fasteners that are suitable for your rack installation. Consult a qualified tradesperson if you are unsure.

Pro tip

    Take a photo of the label on the bottom of your Netgate 8200 before installation.

    It is always a good idea to make a note of serial numbers and additional information from the label on the bottom of your system before installing in a server rack. The labeling may be difficult to read while the system is mounted in the rack. Please take a picture of the information or write it down for future reference.
Category

Products

Product

8200

Software

TNSR

Form factor

Rack

Case

1U Rack - Aluminum, plastic, and steel enclosure
• 19 x 10 x 1.75 inches
• 482.6 x 254 x 44.45 mm

CPU

Networking

• (2) 10 Gbps SFP+ WAN ports
• (2) Auto media detect 1 Gbps (RJ45 copper / SFP fiber) combo WAN ports
• (4) 2.5 Gbps RJ-45 "direct" (unswitched) ethernet (LAN) Intel i226 ports

Storage

128 GB NVMe M.2 SSD (B+M Key)

Memory

16 GB DDR4 w/o ECC, single channel (soldered down)

Expansion

• 1x Mini-PCie Slot (Wi-Fi Only)
• 2x m.2 (Key-B slot) with dual-SIM (LTE, Wi-Fi, or NVMe) (PCIe, USB 2.0, USB 3.0)

Console port

1 x auto-detect console port: "Cisco pinout" RJ45 + micro-USB (micro-USB cable included with each system)

USB Port

2x USB 3.0 jacks (USB-A female) Located on right side rear / lead out to right side front panel of 1U rack

LED

3x 4-color LEDs (RGB + amber) Software / bootloader controllable via Microchip MCU

Cooling

Active - integrated quiet chassis fan with onboard control

Power

External ITE P/S AC/DC 100-240V, 50-60 Hz, 12V 5.0A (60W), threaded (locking) barrel connector.

Operating Temperature

0°C (32°F) to 40°C (104°F) - ambient

Certifications

FCC (Class B), IEC / CE, CB, UL, RoHS, RCM, UKCA