Accessories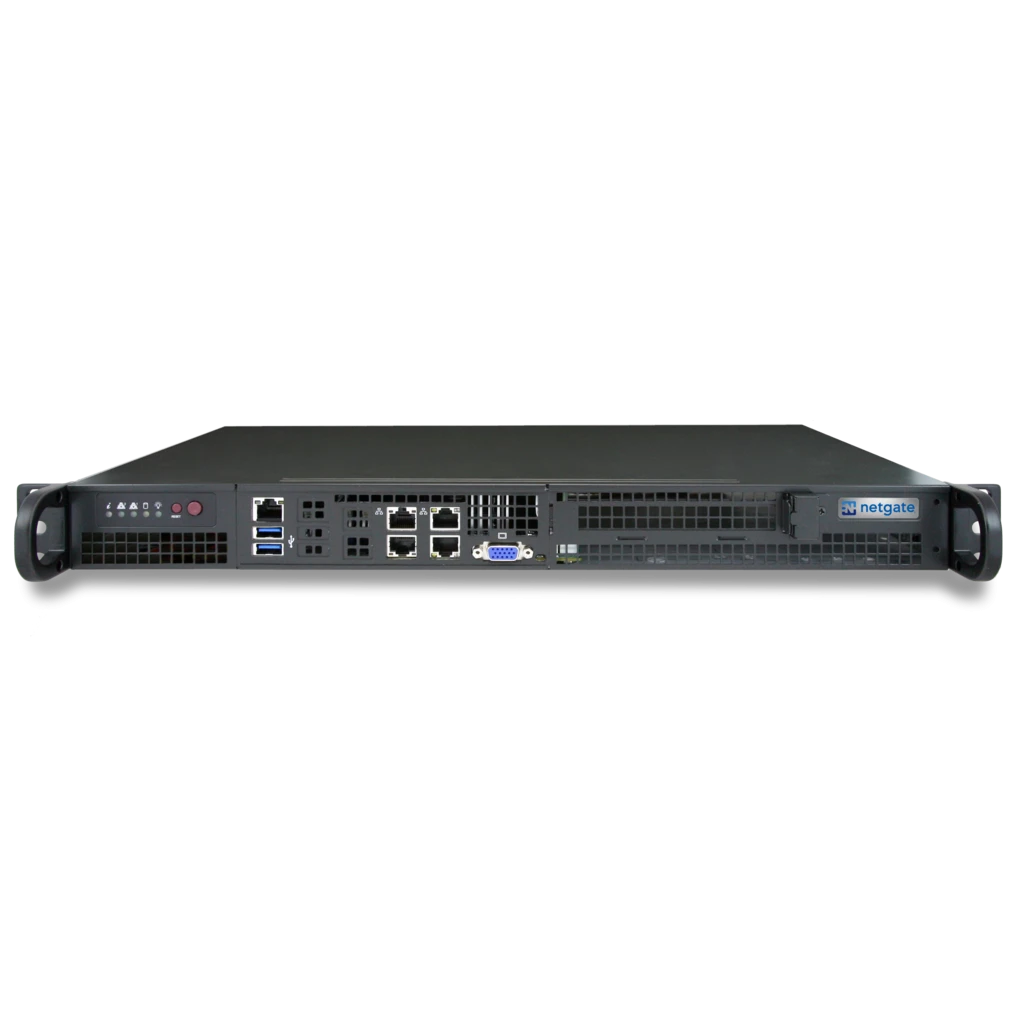 Netgate 1541 Secure router with TNSR software
In Stock
Expedition on Day
Free Shipping
Warranty 1, 3, 5 years
Overview
The Netgate 1541 1U system is a state of the art Security Gateway appliance, featuring the Eight Core Intel® Xeon-DE D-1541 2.1 GHz, with AES-NI to support a high level of I/O throughput and optimal performance per watt. Built with high performance, versatility, and low total cost of ownership in mind, this TNSR systems meet the growing needs of organizations for modern firewall, VPN and routing needs. TNSR helps you solve your secure networking challenges.
Combined with TNSR® software, the Netgate 1541 can be configured as a 10 GbE firewall, LAN / WAN router, or VPN solution - capable of fully exploiting its underlying hardware to accommodate the most demanding traffic processing conditions.
TNSR software also enables the Netgate 1541 to be managed by IT automation platforms like Ansible®, SaltStack®, Puppet®, or Chef™ - which transcend traditional GUI management approaches - to enable speed, scale, and low-cost deployment / operation.
TNSR software information can be found here

TNSR Platform Overview
TNSR Datasheet
TNSR Performance Information
TNSR Technical Documentation

Advanced secure networking software
   - Vector Packet Processing (VPP) and Data Plane Developer Kit (DPDK) data plane
   - Free Range Routing (FRR) software routing stack
   - strongSwan IPsec key management
   - Kea DHCP Services
   - YANG data modeling

Performance scale
   - Two 10G SFP+ ports via SoC 10GBase-T, Two 1 GbE RJ45 LAN via Intel i350-AM2
   - Full saturation of 1 and 10 Gbps links regardless of packet size or encryption level
   - Intel® QuickAssist Technology (Intel QAT) accelerates cryptographic workloads (with optional Netgate CPIC-8955 Cryptographic Accelerator Card)
   - Unlimited users, firewall rules, IPsec tunnels
   - Configurable multi-WAN
   - Expansion slot provides additional connectivity or security options
   - Up to 16,000,000 active connections (scalable to 32,000,000 with 32 GB RAM)

Management scale
   - Clixon system management - Command Line Interface (CLI) and RESTCONF for REST API configuration
   - Multi-instance management
   - Automated orchestration for fast configuration changes
   - Easily integrates with IT automation platforms like Ansible, SaltStack, Puppet, or Chef for speed, scale, and low-cost deployment / operation

Unsurpassed value
   - High-performance firewall, routing, VPN, and other secure networking applications
   - Ideal for users who require network interface card (NIC) saturation across all NICs regardless of packet size or encryption level
        Medium Office, branch / remote / virtual offices
        Managed Service Providers (MSP) / Managed Security Service Provider (MSSP) on-premises appliance deployments
        Everyone with high-speed 10 Gigabit requirements
        Edge to Cloud deployments
   - Unmatched price-performance and total cost of ownership (TCO)
   - Solid performance, compact packaging
   - Includes 24x7x365 Technical Assistance from Netgate Global Support
   - All for a little over $1 a day software subscription

Availability
In addition to deployment on the Netgate XG-1541, TNSR software licenses can also be purchased in conjunction with a Netgate 1537, as a Bare Metal or VM Image for deployment on 3rd party hardware, or as a VM for Amazon Web Services and Microsoft Azure.

Punch in a higher weight class with our CPIC 8955 Cryptographics Accelerator card. The CPIC 8955 delivers up to 50 Gbps of hardware acceleration to help offload the performance demands of securing and routing Internet traffic.
Category

Products

Product

1541

Software

TNSR

Form factor

Rack

User profile

Business
Entreprise

Case

1U 1.7"x17.2"x9.8"

CPU

Intel "Xeon-DE" D-1541, 2.1 GHz FCBGA 1667 supported SoC

Other(s) port(s)

1x BMC integrated ASPEED AST2400, 1x IPMI RJ45 Dedicated Port (Realtek RTL8201N PHY), 1x VGA Port (Aspeed AST2400), 1x SuperDOM power connector, 1x COM, Headers for TPM, GPIO, SMbus

CPU Cores

Eight Cores, 16 Threads, 35W

Networking

Dual LAN via Intel® i350-AM2 1 Gigabit Ethernet Dual LAN via SoC 10GBase-T Virtual Machine Device Queues reduce I/O overhead Supports 10GBASE-T, 100BASE-TX, and 1000BASE-T, RJ45 output 1x Realtek RTL8201N PHY (dedicated IPMI)

Storage

500 GB Micron M.2 SSD

Memory

16 GB DDR4 UDIMM (expandable to 32GB ECC UDIMM)

Expansion

1x PCI-E 3.0 x 16 slot, M.2 PCI-E 3.0 x4 (SATA support) M Key 2242/2280, 6x SATA3 (6 Gbps) ports via SoC

USB Port

2x USB 3.0 ports (front), 2x USB 2.0 ports (via header)

LED

Power LED, Hard drive activity LED, 2x Network activity LEDs, System Overheat LED, Information LED (temp., status)

Cooling

200W Low-noise PS with PFC: Active CPU fan, 40mm chassis fan

Power

1x SATA DOM power connector, 100-240V, 50-60Hz, 2.6 Amp MAX, AC Inlet: IEC320-C14 (3 PIN), Power Cord: NEMA 5-15P to IEC320-C13

Operating Temperature

0°C to 60°C Operating Temp 8% to 90% Operating Relative Humidity (non-condensing)

Certifications

FCC, CE, RoHS, UL