Accessories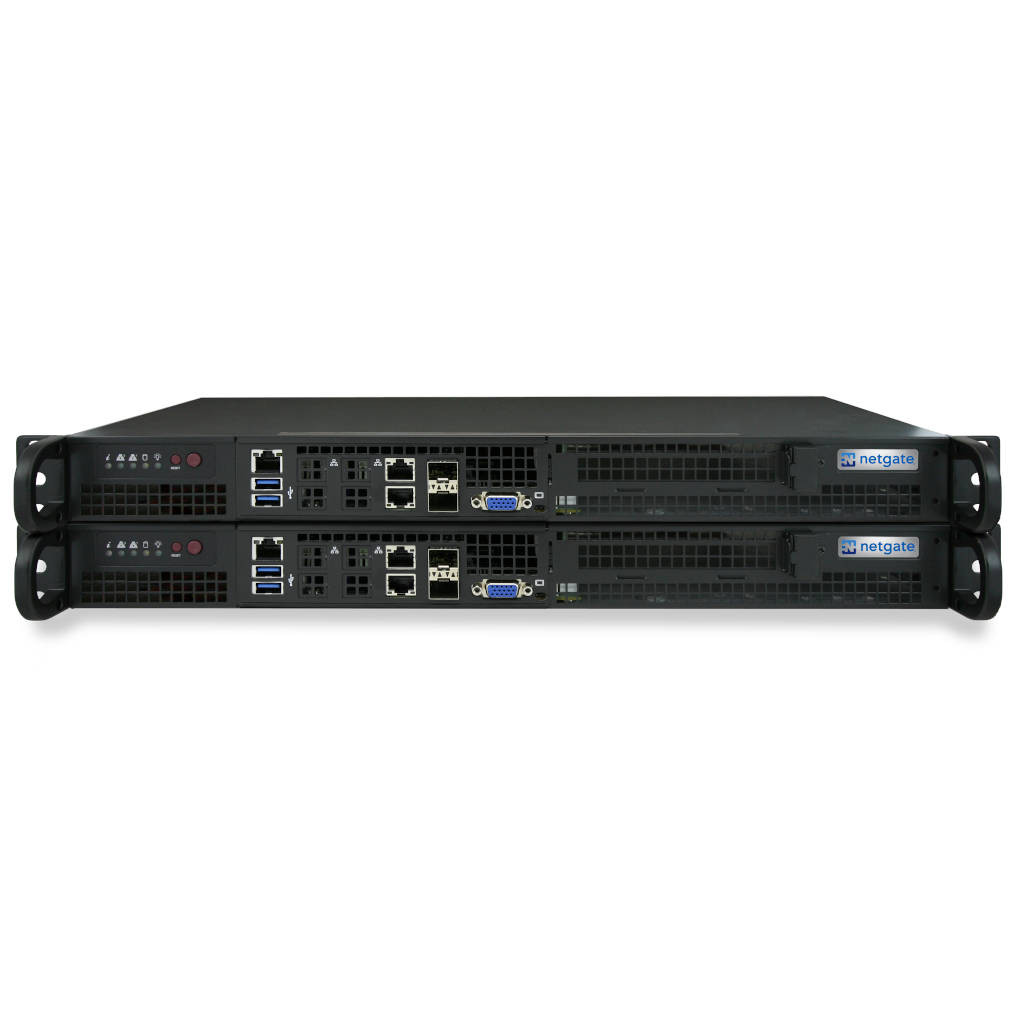 Router
Firewall
IPsec VPN
Netgate 1537 HA pfSense+ Security Gateway
In Stock
Expedition on Day
Free Shipping
Warranty 1, 3, 5 years
Overview
The Netgate® 1537-HA pfSense security gateway is ideal for the medium to large business data centers or server rooms. It features a 1.7 GHz, 8-core, 16-thread Intel® Xeon® D-1537 processor with AES-NI, 2x 10Gb SFP+ ports, 2x 1Gb Ethernet RJ-45 ports. CPIC-8955 Cryptographic Accelerator Card with QuickAssist can be added to offload encryption processing enabling stepped-up VPN throughput performance. Other expansion options include an Intel 4-port 1Gb Ethernet NIC card, or a 2-port Chelsio 10Gb SFP+ card and fan. With RAID configurations and high availability options, the XG-1537 is an excellent choice for high-performance throughput and/or mission critical deployment needs.
Eight Core Intel Xeon® 1.7 GHz CPU
Pre-loaded with pfSense Plus Software
10 Gigabit SFP+ Ports
Up to 8x Fully Independent Ports
8GB DDR4 RAM (Expandable to 32GB)
Up to 32 Million Max Connections
The Netgate 1537 High Availability (HA) 2x 1U 19" rack mount system is a state of the art pfSense® Security Gateway appliance, featuring the 8 Core Intel® Xeon® D-1537 processor with AES-NI to support a high level of I/O throughput and optimal performance per watt.  This pfSense appliance can be configured as a firewall, LAN or WAN router, VPN appliance, DHCP Server, DNS Server, and IDS/IPS with optional packages to deliver a high performance, high throughput front-line security architecture at an excellent price per gigabit.
Built with performance, versatility, and low total cost of ownership in mind, pfSense systems meet the growing needs of organizations of all sizes.
Low total cost of ownership
   - No artifical limits or add-ons required to make your system fully functional.
   - No additional usage or feature based pricing. Enjoy unlimited users, unlimited firewall rules, unlimited IPsec tunnels, dual WAN, etc.
   - Standard configuration with 8GB of RAM and 256GB Micron M.2 SSD storage.
   - Low power requirements to help save you money.
   - This system is designed for a long deployment lifetime.


Grows with you
   - From firewall to Unified Threat Management, get all the security features you need to protect your home or business.
   - Flexible configuration and support for multi-WAN, high availability, VPN, load balancing, reporting and monitoring, etc.
   - Add optional packages such as Snort or Suricata for IDS/IPS and network security monitoring, Squid for optimized content delivery and SquidGuard for anti-spam/anti-phishing and URL filtering.
   - Maximum Active Connections: 8,000,000 (16,000,000 with 16 GB RAM)

Easy GUI management
   - Manage pfSense settings through our web-based GUI.
   - No fumbling with a command line interface or typing arcane commands.

Secure remote access
   - Connect via encrypted Virtual Private Networks (VPN) between your offices, let mobile workers connect security, or connect to the Cloud!
   - Use the built-in Amazon VPC Wizard to easily establish VPN connections with your Amazon EC2 cloud.

Best For:
   - Medium to Large Sized Networks with 1U rack mount cabinets
   - Medium to Large Sized Branch Office with heavy loads
   - Managed Service Providers (MSP) / Managed Security Service Provider (MSSP) On Premise Appliance
   - Anyone with High-Speed 10 Gigabit and/or 1 Gigabit Connections
   - Anyone with many VPN Connections
   - Anyone with high speed connections who wish to configure IDS/IPS features

Additional information:
   -  Quick Start Guide and other Manuals.
   - Not PoE Compatible.
   - Power cords available for EU, US, UK.

Your purchase includes all of these super neat things, which will help you get started with pfSense:
   - Access to the online version of the continuously updated official pfSense book (700+ pages)
   - ACB: Auto-Configuration Backup Service
   - Monthly live education hangouts featuring in depth pfSense topics hosted by our core developers
   - Access to the archive of education hangouts
   - Access to the pfSense Virtual Security Gateway Appliance for VMWare®

Warranty and support information:
   - Appliance warranty applicable if sold in France by Viatitude: One year manufacturer's hardware warranty, return cost to buyer's expense, back-delivery to Viatitude expense (except outside France) with repaired or spare item, new or refactored, identical or superior to original item.
   - Optional extension to 3 years or 5 years of manufacturer's hardware warranty by Viatitude.
   - Next-day spare delivery (in France): upon request.
   - All specifications subject to change without notice.


Software Features:
pfSense is a free, open source firewall and router platform based on FreeBSD that is functionally competitive with expensive, proprietary commercial firewalls. pfSense can be configured as a stateful packet filtering firewall, a LAN or WAN router, VPN Appliance, DHCP Server, DNS Server, or can be configured for other applications and special purpose Appliances. This next generation pfSense security appliance features include:

   - Stateful packet filtering firewall or pure router
   - Routing policy per gateway and per-rule for multiple WAN, failover, load balancing
   - Transparent layer 2 firewall
   - Support for IPV6, NAT, BGP
   - Captive portal with MAC filtering, RADIUS support, etc
   - VPN: IPsec, OpenVPN, PPTP
   - Dynamic DNS client
   - DHCP Server and Relay functions
   - PPPoE Server
   - Reporting and monitoring features with real time information
Category

Products

Product

1537
HA

Software

pfSense Plus

Form factor

Rack

User profile

Business
Entreprise

L3 forwarding

IMIX Traffic: 15.22 Gbps
IPERF3 Traffic: 18.80 Gbps

Firewall

IMIX Traffic: 10.24 Gbps (10k ACLs)
IPERF3 Traffic: 18.62 Gbps (10k ACLs)

IPsec VPN

IMIX Traffic: 1.65 Gbps (AES-GCM-128 w/QAT)
IPERF3 Traffic: 7.12 Gbps (AES-GCM-128 w/QAT)

Case

1U 1.7"x17.2"x9.8"

CPU

Intel "Xeon-DE" D-1537, 1.7 GHz FCBGA 1667 supported SoC

Other(s) port(s)

1x BMC integrated ASPEED AST2400, 1x IPMI RJ45 Dedicated Port (Realtek RTL8201N PHY), 1x VGA Port (Aspeed AST2400), 1x SuperDOM power connector, 1x COM, Headers for TPM, GPIO, SMbus

CPU Cores

Eight Cores, 16 Threads, 35W

Networking

Dual 1GbE RJ45 LAN via Intel® i350-AM2, Dual 10G SFP+ LAN via SoC, Virtual Machine Device Queues reduce I/O overhead, Supports 10GBASE-T, 1000BASE-T

Storage

256 GB Micron M.2 SSD

Memory

8 GB DDR4 UDIMM (expandable to 32GB ECC UDIMM)

Expansion

1x PCI-E 3.0 x 16 slot, M.2 PCI-E 3.0 x4 (SATA support) M Key 2242/2280, 6x SATA3 (6 Gbps) ports via SoC

USB Port

2x USB 3.0 ports (front), 2x USB 2.0 ports (via header)

LED

Power LED, Hard drive activity LED, 2x Network activity LEDs, System Overheat LED, Information LED (temp., status)

Cooling

200W Low-noise PS with PFC: Active CPU fan, 40mm chassis fan

Power

1x SATA DOM power connector, 100-240V, 50-60Hz, 2.6 Amp MAX, AC Inlet: IEC320-C14 (3 PIN), Power Cord: NEMA 5-15P to IEC320-C13

Power consumption

20 W (idle)

Operating Temperature

0°C to 60°C Operating Temp 8% to 90% Operating Relative Humidity (non-condensing)

Certifications

FCC, CE, RoHS, UL